Yoast SEO for Shopify
Recovering from an unsuccessful product launch
Problem: Yoast SEO for Shopify had a successful initial launch. However, After this launch the download and conversions were not what was expected. Other than some major bugs and complaints via support we are unsure what the issue is.
Goal: Focusing on the user experience and value propositions, Increase the turnover by 250%
Product design lead

Leading research, interviews and brainstorms. aswell as creating, concepting and ideating on designs.
Sketch
Hotjar
Dovetail
Power BI
Google analytics
Marketing strategies will be handled by a separate person. My role is specifically aimed at the product.
We needed to understand the motivators of our users and where our app doesnt meet theirs goals. Analytics showed areas that need more discovery. While, User interviews and surveys help facilitate that discovery. They gave us insight into the intrinsic and extrinsic motivators our users have.
38% of users were abandoning at the billing page.
72% of (interviewed) companies had 1-4 employees
Users expect a white glove experience
84% were introduced to the app by a SEO expert (interview)
between 6-10 products per store
Users abandoned billing page
Attended a E-commerce bootcamp
Had used Yoast for WordPress
Persona
No formal education in E-commerce
Company operated by friends/family
attained knowledge via Bootcamps and online resources
Sells products with a story or meaning
Manage SEO because they were told to
are suspicious of new expenses
A light competitive analysis was done to see the current state of SEO apps in the Shopify market place. There are restrictions that Shopify places on apps in their market place and every app has to navigate those. A common one is that for a trial to take place a user must enter their bank details this creates a-lot of friction. As a way around this apps create a free plan. Which should be better identified as a sample. Some use a timer or restrict features.
Another insight was looking back as the first reviews the app had, they faced many of the same problems we did. More noticeably they received good reviews via a white glove experience. This is something we have the ability to offer but need more users to make this effective. This is a another reason to create a free plan for Yoast SEO.
Online rating
Missing features
Key features
Focus audience
4.8/5
Bulk editing
automated processes, 24/7 customer suppport
new & small businesses
4.9/5
24/7 customer support outside of US
JSON-LD support, Sitemap
Bigger businesses (2000 plus pages)
4.9/5
Bulk editing, JSON-LD support
Image optimisation
Small Businesses
4.7/5
Meta description management
Google image AI, Review app support
Price conscious users
The game plan:
Create a free version of Yoast SEO for Shopify
Collect positive reviews
Create a white glove experience using Support engineers
Focus on Co-Marketing opportunities
My focus was on the free version of our app. Making sure we could implement it quickly and still have a userflow for converting to premium. When comparing our app to others we lack many features but did manage a products meta data better.  Because of this we decided to allow a users to optimise a restricted number of products. The idea being we will show how those product perform better thanks to our app. The optimal number for this would be 5 as it would allow a new starting store to use our app and an existing store to try us out while still needing the premium version if they wanted to use our app for their entire store.
This free version should also stop the users that exiting at the billing page as all new users will automatically be sent to our free version. This allow for more opportunities to white glove a user creating a spoke person for our app. With this we also created a referral program to help benefit our spoke persons.
Wireframes/Flows/Prototypes
Thanks to the process of interviewing users and looking at what other apps had done in the Shopify ecosystem we created a game plan. With the largest amount of our users coming from recommendations we created a referral program as well as opened the app up with a free plan. This allowed our support team members to turn users into spoke persons for our app.
We iterated on upsells and CTA and well as creating a single funnel for all our upsells meaning we can better test their effectiveness. We also create a bulk editing feature to better make use stand out form our competitors.
it took 4 months to create all these intertwining features and programs.
The biggest con-straight with this project was time. we didnt have a large amount of time to test ideas and instead went for internal testing with a longer evaluation phase after launch. This is because currently the app is perform 1/8th what it was suppose to.
We combine our efforts in a free plan journey.
Our goal is to turn our users into spoke persons. We want to do this via a white glove experience as we found this had the largest impact on a users perspective of our and others apps. These users were turned into spoke persons who via a referral program would then bring on more users. So far we have taken the app from a 1.8 rating to a 4.1 in 4 months. The reviews show the importance of the support engineers and the designs created here were created to facilitate them.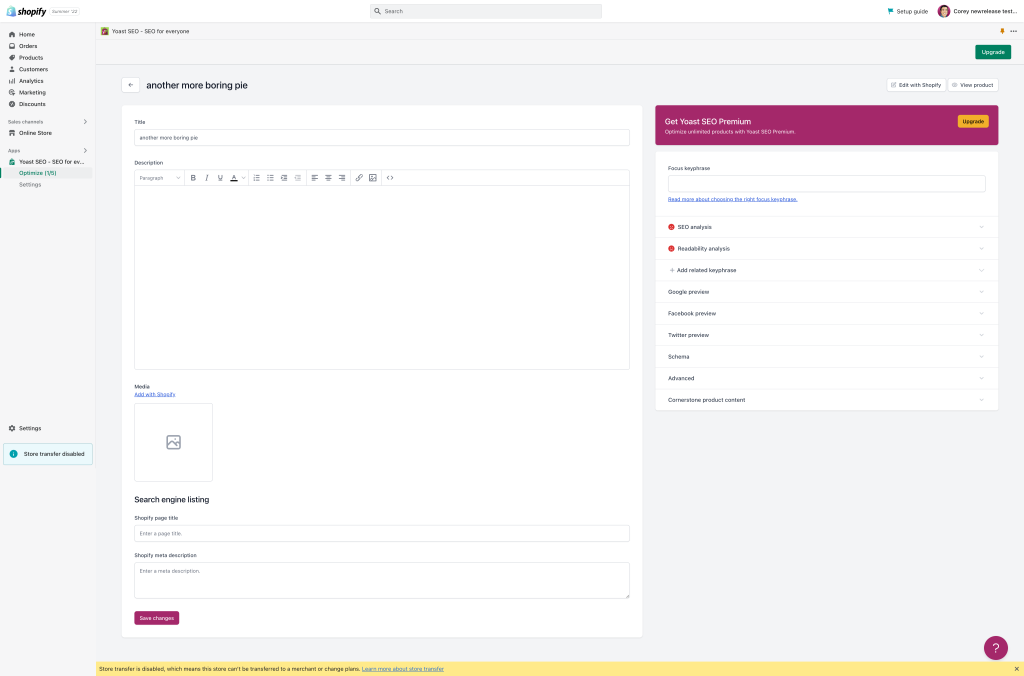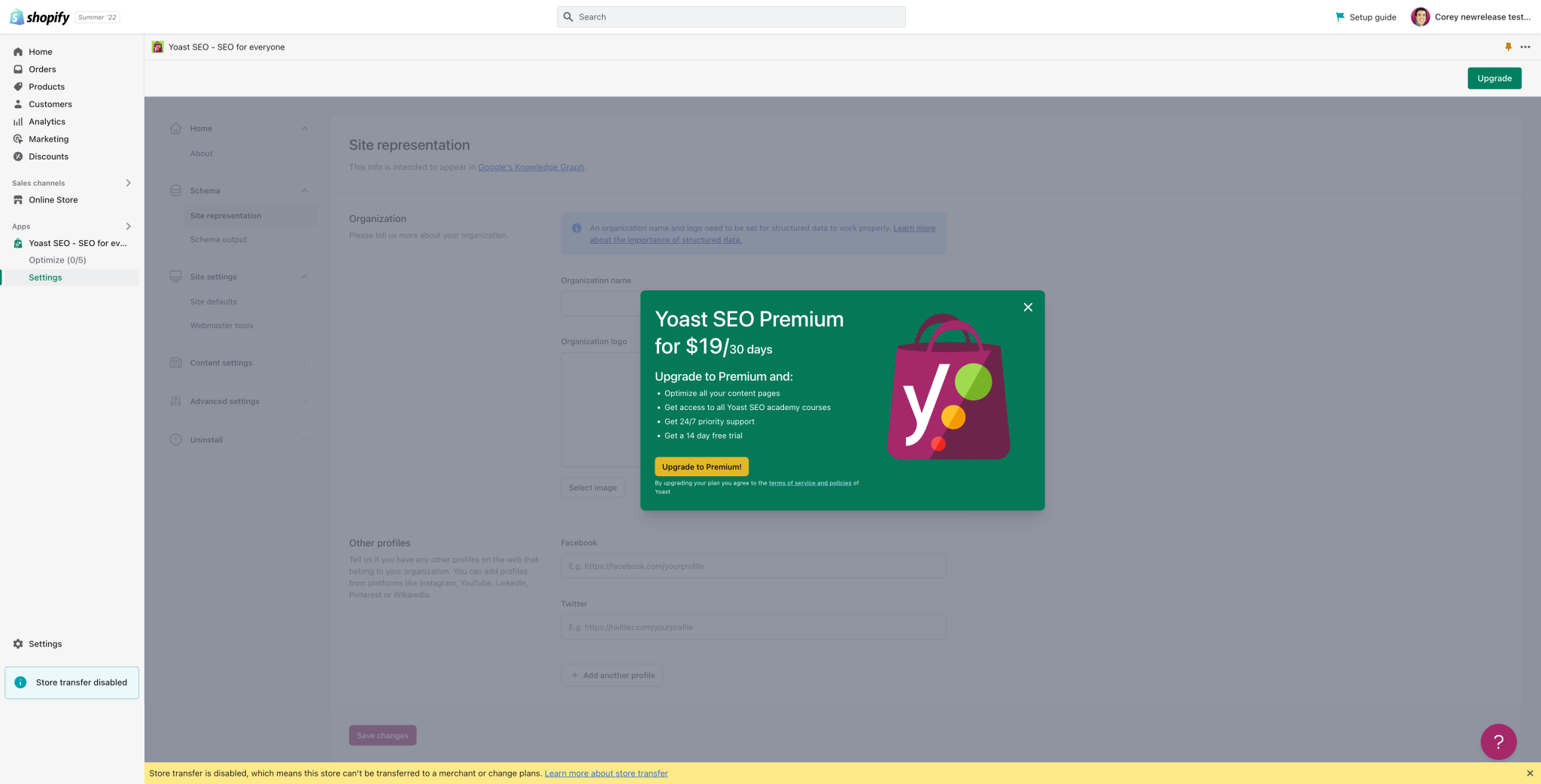 "Best SEO App so far! Google Rankings go up in highspeed each Day. Thank you Yoast!"
Making Yoast SEO for Shopify a success
The launch of the free plan happened August 2022 and while the launch was successful on a technical level there has yet to be enough time passed for a true evaluation. However this hasn't been a single focus project and has encompassed many smaller features since creating the Shopify growth team and the number bellow show the impact all our small efforts have had. There are still two major project left for this year and they are expected to tie this whole story together. Turning our users into spoke persons.